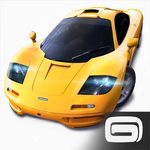 The racing genre has made itself popular on Android, with Asphalt Nitro having lead it since 2015. Try out Asphalt Nitro APK to see what we're talking about.
Asphalt Nitro: Fast-Paced Fun On Your Mobile
When it comes to racing games on mobile, Asphalt Nitro is probably a name you've already heard of. Gameloft has brought fast-paced competition right into your hands (literally) with a focus on immersive gameplay, and a diverse selection of interesting cars.
A Racing Game Full of Surprises
As you first launch the game, you'll notice various options to start with. You can jump right into career mode, which offers players a total of 6 seasons that show off 6 locations and 16 playable tracks.
What are the Cars Like?
There are several cars to choose from in Asphalt Nitro; each of them is identified by one of the five classes in the game; Class S, A, B, C, and D. You'll find the cheapest of the lot in Class D, and mainly what you'll be using at the start of the game (cars like Mini Cooper S Roadster, Renault DeZir, and Nissan 370Z).
Once you progress further into the game, you'll be able to grab yourself some of the S-Tier cars (namely the McLaren P1, Koenigsegg One:1, and the Lamborghini Aventador).
The Beauty of Asphalt's Tracks
Considering how the game's developed (which we will get to in a second), the race tracks are as good as they get. There's just the right mix of scenery and background terrain to make you feel the location of the map. There are a total of 8 playable tracks, each with a reverse version, giving you 16 different tracks to play around with.
Become a Legend in the Career Mode
You'll find yourself fairly occupied with the Career Mode initially, which allows players to participate in multiple challenges across the span of 6 seasons in total. Within these, you'll experience the game's different race types, such as Classic, Versus, Catch, Elimination, Knockdown, Infected, Gate Drift, and Escape.
What Makes Asphalt Nitro Stand Out?
The Asphalt racing series is undoubtedly one of the more popular on both PC and mobile. Knowing that Asphalt Nitro APK follows in the same footsteps of its predecessors is already a plus point in and of itself.
The Asphalt Nitro APK download is merely 30 MB, which then extracts to a total of 150 MB. That is criminally low, considering how much content the game offers you. All of this is done by keeping the game optimized and allowing players with limited data plans to join in on the fun as well.
Although the racing tracks are simple, and the overall scope of the game is limited, you'll still find hours of fun from Asphalt Nitro's career mode, achievements, and multiplayer mode.
How Intricate are Car Upgrades?
The heart and crux of every racing game are the upgrades. The better they are, the more incentive the game gives you to continue playing to max out all your cars.
During your time in the game, you'll be able to purchase four upgrades, with each going up to a maximum of 5 levels (with 5 being the max).
Acceleration
Handling
Nitro
Top Speed
It's not much in terms of customization, but it works extremely well as the game tends to keep it simple. You'll see a notable difference in your cars' performances every time you upgrade. However, we recommend saving up a little for upgrades on your favorite car once you've completed the career mode.
The Music In Asphalt Nitro
A driving simulator can't really hold up to its name unless it offers you some nice songs. Gameloft uses its own songs in the game, giving you only a total of 3 soundtracks that you can listen to. One of them will be heard in the main menu and the other two during races.
There isn't too much variety to bob your head to in the Asphalt Nitro APK Android, but that's what you've probably got Spotify downloaded for.
Important Tips to Be a Good Racer in Asphalt Nitro
Playing with TouchDrive is convenient, but if you're going to be hopping into multiplayer anytime soon, you'll have to switch to Manual mode to get the most out of your steering and acceleration.
Actively perform stunts and drifts to generate nitro. Using nitro will be the ultimate key to passing competitors in the race and stealing positions. Make sure to upgrade it as well by using some of your credits.
While we're on the topic of credits, ensure that you're continuously collecting them and not spending them on the wrong choice. You will have to upgrade different aspects of your car BUT do so ONLY when you absolutely need to, as you'll constantly be changing cars until you reach the S-tier.
To get new cars, you must complete different career missions. By doing so, you'll constantly be moving up the ladder, and by the time you're done, you'll have a huge roster to choose different cars from and to show off to other players.
If you want to try out a car, you can do so in Quick Solo Play.
Conclusion
Asphalt Nitro APK Latest Version is packed with all the essential features that you would expect from a racing game on mobile. With a small download size, simple tracks and diversity in the selection of cars, you're sure to have a good time maxing out some of your favorites in the world of racing.