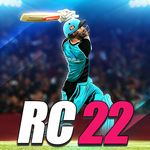 Real Cricket 22 APK will surely be a fun pass time for you. If that entices you, let's look at Real Cricket 22 APK download to get you to hit those sixes up in no time.
Introduction to Real Cricket 22
There are very few games that can actually capture the essence of true sport, lack of functioning gameplay with poor production value holds back a lot of the games being developed. Thankfully, this game features interesting and interactive gameplay with fluid mechanics to let you not be bored.
Real Cricket 22: Explained
Real Cricket 22 APK Android is developed by Nautilus Mobile, they have made several cricket games in the past and Real Cricket 22 is their latest version that's been updated from previous generations of the Real Cricket game series. Real Cricket 22 has robust gameplay with more features available than any other cricket game of today such as
Manual Fielding & Catching
Motion Capture
Shot Map
Legendary Commentators.
Dynamic Stadiums
Real-Time Multiplayer
Tournaments
This just isn't even the whole extent of features available in Real Cricket 22 APK latest version. All these features collectively make this game extremely fun to enjoy and relive your cricket dreams.
How To Play Real Cricket 22
The latest Real Cricket 22 APK free version maintains the same idea as earlier versions. If you're not sure how to play the game, here's a brief overview:
Once you start the game, you will be provided with several mode options on the menus screen to choose from.
After choosing a mode, you will be allowed to choose a team, the overs, and the difficulty.
After paying the entry fee, you can choose a map and you will also be asked to either field and catch manually or automatically.
You can also customize your kit and choose your commentator from this same screen.
After a cinematic cutscene, the toss takes place and you can select your choice for the toss, if you win, you can choose to either bat or bowl first.
For Batting:
You have to choose your opening batsmen.
Once you're on the field, you can choose your character's movement, hit direction, and type of hit.
After this, as the ball is approaching, you have 4 choices. All these choices have merits and demerits to them.
If you hit a ball, you will be prompted for a run key, if you press it your batsmen will take a run.
If your batsman is given an out, you can choose the next in-play player until all your players are out.
For Bowling:
You have to select your bowler.
Once you're on the field again, you can choose the field preset, change which side you'll bowl from, fix your ball bounce area, select the power of the ball, and which type of a ball it will be.
If the opposing batsman hits the ball you will be given a bar that if you click on the perfect range, will be the optimum result for that play.
After every over you can choose the next bowler if he still has overs left to bowl for that match.
Some balls can be taken to third empire review on their own and you have to choose your remaining reviews.
Exciting Features To Look Out For In Real Cricket 22
This game has tons of enticing features that will make you want to come back to it again and again. Let's go over some of the most exciting ones:
Realism
The game features extremely realistic gameplay, taking real cricket aspects as inspiration, and every ball bowled and hit is programmed to follow proper physics. You won't see every ball being a sixer or every ball being an out as well, the balance of true cricket is observed here.
Commentary
Real Cricket 22 features both English and Hindi commentary by famous commentators such as Sanjay Manjrekar, Aakash Chopra, Vivek Razdan, Danny Morrisson & Lisa Sthalekar. Every moment feels genuine to the actual gameplay happening with perfectly lined quotes by the commentators.
Useful Tips For Playing Real Cricket 22
Now that we've gone through the basics, here are a few tips to dominate the game:
Batting
Gauge the information: Carefully look at the information on the screen. Is the pitch hard or soft? faster bowler or spinner? All these aspects play a big role in your batting.
Timing: It takes approximately 4 seconds from the start of the bowler run up to you hitting your shot, so time your shots correctly.
Learn the pitch: You have to play and learn where the ball is going to come from, with what pitch, with what angle, and with what type of swing to create a line inside your head to perfectly position yourself.
Pro Joystick is better: You can choose the legacy swipe control but the pro joystick provides you with better control of where the ball is gonna go after you've hit it.
Bowling
Attack to defend: For the starting overs, put your fielders in a more attacking position as the batsmen play less aggressively in these overs. After the first 5 overs, switch to a more defensive layout of the stadium.
Mix it up: Make variations in your bowling style, do not ball the same bowl every time, switch your speed up, and choose a different style for the bowling so it's harder for the batsmen to read it.
Be realistic: The game is realistic and takes inspiration from actual cricket so don't set up unrealistic expectations and play it like real cricket.
Keep these tips in mind to have an edge over your opponent whether AI or a real human.
Conclusion
Real Cricket 22 is the best next-gen cricket game out right now, it combines the cricket spirit with fun gameplay to make it an extremely enjoyable experience for the players. It also has tons of features that make it unique from other games. All in all, this game is a very good time killer that also has one of the best roots in Cricket games.