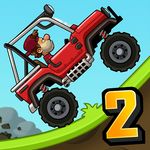 Hill Climb Racing 2 APK
1.57.0
Download Hill Climb Racing 2 APK to enjoy racing across dozens of cups and tracks. Open and upgrade crazy vehicles, customize your character and form a great team.
Brief Introduction of Hill Climb Racing 2 APK
Hill Climb Racing 2 is a free-to-install mobile racing application developed by Fingersoft and launched in November 2016. The game takes you through different terrains to test your ability. You could play the game to prove how well you can balance vehicles through bumpy roads. The multiplayer game was designed in 2D, and you have the liberty to purchase your dream vehicles and customize them to your taste. Get the game on an Android or iOS device.
Hill Climb Racing 2 APK Game Description
This is the sequel to Hill Climb Racing, and it is among the most successful racing game in the industry. Hill Climb Racing 2 APK follows the same storyline and gameplay as its predecessor. It has recorded over a hundred million downloads and four million reviews.
Hill Climb Racing 2 APK comes with simple gameplay that is suitable for you. The game's developers designed the game to be endless. It features different maps to keep you entertained throughout your time. Aside from the maps, the game has excellent features to improve your gaming experience.
If you desire to get in different characters to race and have fun, Hill Climb Racing 2 APK is the one for you. The app allows take up any character you want. You can customize the looks on the app, try out any vehicle you wish and race through various tracks.
This is a fantastic way to kill time, enjoy a relaxing period and cool off. You would love the game graphics, controls, and gameplay. If you played the first game, you're set to enjoy Hill Climb Racing 2 APK's latest version. You can race with players online and challenge your friends to a race. Come out victorious to win fantastic rewards and move up the scoreboard or ranks.
Hill Climb Racing 2 APK Gameplay
With Hill Climb 2 gameplay, it has attracted lots of gamers. Its gameplay is straightforward, so it brings lots of humor and entertainment that you can enjoy with everyone. Hill Climb Racing 2 APK Android has gameplay built in a popular style. You would have to race in a side-scrolling and off-road style.
You have a challenging job in the game, which is to finish a race within the speculated time. Complete each race without exhausting your fuel and getting into accidents. Several racing modes exist in the game and are entertaining and attractive.
Also, the game's control mechanism and graphics come with a considerable change. You would be comfortable while controlling vehicles on the terrain. Hill Climb Racing 2 APK is quite diverse and has rich rewards for every player through daily tasks and other challenges.
Features of The Hill Climb racing 2 APK
Check out the notable features of Hill Climb Racing 2 APK:
Hill Climb Racing 2 APK Vehicles and Customization
The game has a vast collection of performances, appearances, and vehicles for you to choose from. Do not hesitate to open these collections for a better experience.
Every car in the game comes with unique advantages and traits. You need to set your car priority straight. While on that, pick out the vehicles that suit you and can complete your races.
Actual physics is applied to the game, and its controls are like a one-way ticket to victory. Another ticket to winning your races is fuel usage. When you discover the best fuel-efficient way, you will race better and be a winner.
Understand the game and its speed balance and take advantage of that. Pick up the gas cans you see while racing, as fuel utilization is prioritized in Hill Climb Racing 2 APK.
Hill Climb Racing 2 APK Game Modes
You would discover the game modes when you get on the game, but this sequel has an Adventure mode where you can drive without stopping unless you're out of gas or in trouble. An important part is the Cups mode, where you can go on short races with friends or online players.
Racing and coming out victorious in Cup mode increases your ranks and helps you can reveal new cars and the environment. You would start the game with five vehicles, unlike the 29 vehicles given in the previous game. Hopefully, other cars will be added to the game.
Bear in mind that every car in Hill Climb Racing 2 APK have all cars comes with unique characteristics. There are super fast vehicles, lightweight scooters, and the steady jeep that are slow. Try to master every aspect of the cars as it would prepare you for every race. You can upgrade their characteristics as you go.
Racing Team and Events on Hill Climb Racing 2 APK
On Hill Climb Racing 2 APK, you have the chance to take part in fantastic team competitions. Here you'll join other players and form an ultimate team to win racing battles. Bring your friends together for the best gaming experience.
So many racing events are in Hill Climb Racing 2 APK 2023. You will get rewarding prizes and coins when you win a race. Take part in the daily and weekly events to get many fabulous prizes.
Final Thoughts on Hill Climb Racing 2 APK
Enjoy racing on different terrains and using various cars. Try out the game modes and great environment as you advance in the game. Try out several customizations and upgrade the vehicles to your preference.