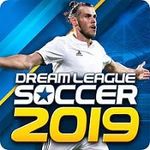 Dream League Soccer 2019 APK
6.12
Download Dream League Soccer 2019 and have fun playing with your favourite soccer stars. Manage, train and lead your dream team to become the best in the league.
A Comprehensive Description of Dream League Soccer 2019
The Dream League Soccer 2019 APK game is one of the annual games released under the popular Dream League Soccer umbrella that was initially released in 2016.
DLS 2019 APK is a soccer game where players take control of their dream team by managing players, competing in different competitions, and improving the overall standards of the club by developing it.
The Dream League Soccer 2019 APK Android game is based on the seasons in play, and this version follows the 2018/2019 season. First Touch LTD developed this game, and since football is a sport that can be played ball all, regardless of age, status, or religion, this game can be played by everyone. It is rated E.
The operations of Dream League Soccer 2019 APK are convenient, and players can easily understand how to go about it. They're options on the screen that, when pressed, perform different actions such as movement of the players, dribbles, passing, and the necessary skills needed to play a game of football. The controls are straightforward, and it is easily understandable.
If you're a lover of soccer games and want the chance to enjoy playing with your favorite players and teams and compete in competitions, this is the perfect game for you. Once you start playing, you won't want to stop.
Incredible Gameplay and Concept on Dream League Soccer 2019 APK
Dream League Soccer 2019 APK is a management simulation where you are given the complete freedom to manage your team however you want. Players are given the freedom to choose the name of their team, design their jersey and colors, and also determining the appearance of their stadium.
The main objective of this game is to build your dream team and develop them until they become the best in the top division. You initially start with a group of random individuals, and you are allowed to choose one real-world player to captain your team. While playing this game, you are meant to build your team through the lower divisions until they reach the highest levels.
There are multiple divisions in Dream League Soccer 2019 APK, and the one you participate in depends on how good your team is. The leagues include the academy league, divisions 1 to 3, the junior elite soccer league, and the best one in the elite division. There is so much fun that players can gain from going through each of these leagues as you will face different players and teams and challenges to win the titles and gain promotion.
There are other game modes that players can enjoy playing in this game. You can have fun playing regular matches against other teams and also play online exhibition games against other players globally. To enjoy the online game mode properly, a stable internet network is required.
Rewards and bonuses are given to the winner of matches in Dream League Soccer 2019 APK, and the cash can be used in the game shop to purchase new items and merchandise to customize your club to your satisfaction and taste. You can also buy new players and add them to your team to improve your team.
One particular thing that appeals to players of Dream League Soccer 2019 APK is that the game is fully supported and accepted by FifPro, so all real-world players have authentic illustrations of their appearances, and their names have been accurately added to the game. This makes the game more realistic and enjoyable to play.
The visual system in Dream League Soccer 2019 APK can also be commended as there are good drawings of the players, the stadiums are all well designed, and there are good reactions that come from the players, which makes the game appear very realistic. The sound effects in this game are also great sounds from the fans when a game is in play and pleasant background music while moving around the app.
Game Features on DLS 2019 APK
This game is rich in features. Some of them include the following:
Dream League Soccer 2019 APK is a management simulation where you are given the total freedom to create, take control of players, and manage your dream team to your taste and satisfaction. Players are allowed to change the appearance of player jerseys and the name of the team and also edit the stadium they play in.
In this game, there are seven different leagues. Each league has its teams, and players are rewarded with cash and promotion when they win matches and win the league. There are also domestic cups that players can enjoy playing.
Dream League Soccer 2019 APK is entirely accepted and supported by FifPro, enabling you to use real-life players with their actual appearances and names. By using their real faces and names, playing find it more fun to play.
The graphics in this game are impeccable, and with good illustrations and drawings, it has become a beautiful game to look at. The game can be said to be very realistic as it resembles an actual game of soccer.
Players of Dream League Soccer 2019 APK are given the option import kits and logos from different locations and use them to customize their team's appearance. This allows players to edit their teams to their satisfaction and taste.
Conclusion
This game is fantastic for those in love with the beautiful game of soccer. There are many players and different leagues that you can play in, so you will always be kept interested. Download this game today and start having fun.