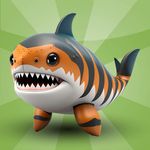 Animash APK is a unique game that lets you merge 2 animals together by utilizing AI. These new creatures have unique appearances, characteristics, and abilities.
Introduction To Animash APK
AI is more popular than ever, and today, it has entered the world of mobile games. Introducing Animash APK. A game that makes use of a very simple yet powerful AI algorithm that lets players merge together 2 different animals to create a fictional creature never seen before!
Animash APK features an enormous catalog of animals that you can choose from. Each animal can be merged with any other animal in the catalog, except itself. Since merging a dog with another dog would give- well another dog.
What makes Animash APK unique is that each and every creature that you make has a unique set of abilities and stats that are generated on the spot. Additionally, Animash APK features really cool cartoon styled 3D models which look really appealing. Each and every creature you make will have a unique name, you can also save your favorite creatures in case you like the abilities.
Animash APK is a really good way to spend some time exploring and creating creatures that not even fiction has the capability of grasping! If you like merge games, then you are sure to love this, give it a shot!
Now, let's take a look at how you can start playing Animash APK right now.
How To Play Animash APK
Despite having so much to offer, Animash APK is a relatively small game and can run easily on almost any Android device.
Scroll down and use the Animash APK Download button that we have provided at the end of the article.
Your browser may issue a warning about the security of said file, but you have nothing to worry about!
Simply press download anyway as this is just the Animash APK Android installation file.
Once the file has been downloaded, open your File Manager application and search for the installation file in your recent downloads.
Run the installation file and allow installation from the source in question in case your Android package installer stalls.
Follow through with the installation procedure and launch Animash APK.
On the main menu, you will see 3 buttons, Megre animals, Community, and other apps by the devs.
Tap merge animals and pick a "dad" and "mom" animal from the catalog.
Tap next and wait for the animation/merging process to complete.
Your merged creature will be created, the rarity for your creature will be shown and then the stats/abilities will be explained.
There are tens of thousands of combinations you can try, so let your imagination run free!
Unique Features In Animash APK
Animash APK is quite a simple game, but the features it does provide are all very detailed and optimized to the max. Here we have given some of the features that make Animash APK such an icon.
Huge Catalog Of Animals
When you are about to merge animals together, you get to choose a "dad" animal and then a "mom" animal. The catalog from which you get to choose an animal for its respective role, is not only limited to animals really. They include insects, birds, food items, and even elements like water, electricity, etc. Additionally, each and every combination of animals will provide a unique creature. That creature will then be rated on a scale of rarities to show you how rare of a creature you have made. Switching up the order in which you pick will result in a different creature!
Countless Combinations
Since the catalog of animals, insects, etc is so huge, there are infinitely more combinations of creatures you can create. New creatures are unlocked every 3 hours, so make sure to check back in every now and then to try the new animals.
Instant Descriptions for Each Creature
Each and every creature you create by merging animals will have a unique name, description, set of abilities, and stats. It is almost like your self created pokemon universe at home! This is only possible due to the powerful AI algorithm that the developers have used for the entire merging and stat creation process. But essentially, the game follows one simple rule, the rarer your creation, the stronger it will be!
Tips To Play Animash APK
To help newer players warm up to the Animash APK game's mechanics, we have given some helpful tips below.
Try Various Combinations
Animash APK has a huge catalog of animals, insects, and even food items to merge with. This leads to players having virtually endless possibilities and combinations to create new creatures. Try the wildest combinations and maybe you will get a super rare creature that has never been created before.
Keep Up With The Community
On the homepage of the game, is a community button. You can visit the creations of other players to get ideas or just browse and see what everyone else has been up to. You are sure to find unique creations that you would have never thought were possible.
Update Regularly
Since Animash APK has a very dedicated team of developers constantly trying to improve the game, they release updates on a regular basis with new combinations and new animals to merge with. To try out the new animals and new features make sure to keep yourself up to date with the news and update the game as soon as one drops.
Conclusion
That is about it, to conclude, Animash APK is easily one of the most innovative games to be released recently. Create never before seen creatures with a detailed description of each one on the spot! Compare and discover new unique creatures that other players have made in the community. Download and enjoy the immersive visuals and stunning 3D models that Animash mod APK unlock all versions lets you make. With Animash APK, the only limit to new creations is your imagination and creativity!