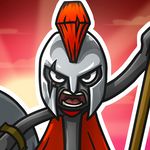 Stick War 3 APK
2023.2.3404
Stick War 3 APK is a new and improved strategy game where you lead an army of troops you choose to victory. It offers stunning graphics, and an overall challenging experience.
Introduction To Stick War 3 APK
Stick War 3 APK 2023 belongs to the category of real-time strategy games. It demands a highly competitive mindset as it is a multiplayer war game, and you get to lead your troops into battle against a team compatible with yours. To win a battle, you are going to have to actively plan the placement of your troops, and utilize the expenditure of gold to acquire those troops. The troops are divided into two categories, the miners and warriors, the warriors further have two sub-categories, the archers and the swordsmen. You will have to play and learn what strategies suit you best.
The goal of the game is to protect your army's statue and destroy the enemy's. You can decide whether you prefer taking up a defensive position or an offensive one, it will all depend on the placement of troops. Archers are good for offensive attacks as they have a longer range whereas swordsmen are good for head-on attacks.
The game offers several game modes, some of which are multiplayer, challenge, and campaign modes. You can partner up with a friend and also play 2v2 matches which are twice as chaotic and fun. Playing more will help you train and upgrade units, so play consistently and destroy your enemies in battle!
How To Play Stick War 3 APK 2023
You can use the Stick War 3 APK Download link to get the game on practically any Android device.
This link can be found on the website APKCima for free.
Click this link to download the Stick War 3 APK installation file onto your Android device.
Upon clicking this link, your browser will warn you about the file and say that it can be harmful to your device.
Click download anyway as this file is completely safe.
Once the file is downloaded, open your Android device's file manager and in the recently downloaded section, you will find the installation file.
Run the file and start the installation process.
This will promt another warning message saying the device cannot express installation of files from an unknown or 3rd party source.
You will get the option to cancel or open settings.
Click settings and click allow from this source.
Now go back to the file and you should have no more issues installing.
Once the process is complete, launch Stick War 3 APK.
Create an account or log in if you already have one.
On the main menu screen, click on armies to edit your deck of troops.
You will not have many troops unlocked right now, but you will have all the essential ones.
Click play and choose a game mode.
Spend your starting gold on miners and a little on some zombies.
Your objective is to defend your statue and destroy the enemy one.
Collect gold and crystal but do keep a few archers and spearmen on the field to make sure you can defend against an attack and keep your miners alive.
Once you have enough troops, assemble them into a formation and destroy the enemy statue.
Exciting Features Of Stick War 3 APK To Lookout For
The Stick War franchise and just stick games, in general, have been around for a while with a dedicated fan base. Now, with the release of Stick War 3 APK, the fan base has been ever-increasing. This is due to all the improvements and cool features implemented into Stick War 3 APK. Let us have a look at some of these features.
Several Game Modes
Stick War 3 APK features game modes you can enjoy. A massive campaign with new chapters under the works right now. High-quality cut scenes in music video style. There is also a multiplayer game mode where you can battle it out against another player in real-time. A 2v2 game mode will be introduced soon. Lastly, there is a single-player section where you can try featured levels or practice against bots and play offline. Additionally, you can also watch replays of your battles.
Amazing Visuals And Interface
Stick games have been around for quite a while, and Stick War 3 APK brings a whole new meaning to the word remastered. The game retains the concept of its predecessors, yet has several times better visuals and sound effects. The entire interface of the game really feels like a game and not a slideshow like the old titles.
Many Troops
Stick War 3 APK offers a large catalog of troops to choose from with a full rarity system. Each troop has its pros and cons, for example, the giant, has a lot of HP and damage but has very low attack speed and movement speed. There are many spells available that you can add that can act as buffs for your team, or debuffs for the enemy.
Tips To Play Stick War 3 APK
If you are new to the genre of games, you may struggle to win games or may even be confused as to what you need to do. To help you improve, we have given some tips below.
Focus On Both Attack And Defence
New players tend to get over-aggressive and do not create a good defense with a good base of income through miners. Others forget about attacks and spend all their resources on miners etc. Make sure you send out some troops for defense while also creating some sort of attack with archers or any sort of frontline troop.
Practice Offline
Try out new decks with different sets of troops in the offline mode to create a unique strategy. In offline mode, you play with bots so you will have nothing to lose.
Conclusion
Stick War 3 APK shows the epitome of the evolution of stick games. The improved graphics and amazing sound design create a very nostalgic yet engaging experience for the fans. If you are interested in becoming a fan of this genre of games, start with Stick War 3 APK, it is one of the best titles available in the genre without question.