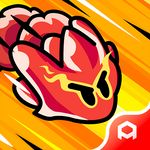 SSSnaker APK is a mixture of Snake, Bullet Hell, and Roguelike games. Grow bigger, get stronger, and blast all your enemies away! Download and play it now!
Introduction To SSSnaker APKS
SSSnaker APK is one of the best Roguelike games available in the Mobile Gaming world. It offers a very unique approach towards Roguelike games and adds new mechanics by making the character you play as, a snake.
In SSSnaker APK, your objective is to grow bigger, dodge the enemies and their projectiles, destroy the enemies with cannons on your snake. It has follows a classic Roguelike stage system where you get new abilites, more cannons, etc per stage. Surviving for as long as possible is your objective as expected.
The game offers many abilities, you get to choose 1 of 3 random abilites every other stage. This will be through an enemy in the shape of a mystery box. Occasionally, as you continue moving further up the stages, you will come across new and more difficult enemies.
During a run, defeating enemies rewards you with gold, you can use this gold to upgrade your gear. You unlock items and gear by completing quests and surviving longer which rewards you with chests containing these items. Players can create various builds by selecting respective abilities. It is a fun game for Roguelike or just survival game enjoyers.
How To Play SSSnaker APK
You can find the SSSnaker APK download link on APKCima for free.
Start the download for SSSnaker APK latest version's installation file.
Whilst waiting for this file to finish downloading, go into you Android device's settings and in the security section, enable the allow installation from Unknown Sources option.
The file size is only around half a gigabite so it should not take to long considering you have a decent wifi connection.
Once the download is complete, head into your Android device's file manager and run the installation file which you can find the recently downloaded files section.
Now follow through the installation procedure and launch SSSnaker APK.
Once you load in, you along with your snake will be put dirently into a run.
Use the joystick around to move, dodge the enemies and their projectiles if any.
Do not worry about the enemies or their projectiles hitting your body, it is only your head that you need to protect as your snake's head is the only part that can take damage.
Choose one of 3 abilities every time you kill a mystery box enemy.
Circle around enemies until your head touches you body and you will do massive amounts of damage to the enemies your body surrounds.
Every 10 stages you will have to face off against a boss enemy.
The game is designed to make you lose at stage 20 in this starting run so do not be disheartened.
Instead, use the gold you gained to upgrade your snake, unlock new gear, and jump right back in!
Exciting SSSnaker APK Features To Look Out For
SSSnaker APK offers some really cool features that gamers will enjoy. Some of these features are given below.
Innovative Abilites
SSSnaker APK has a very unique set of abilities that it offers the player as a reward. Unlike other mobile Roguelikes and Roguelites that havevery straightforward abilities like an increase in attack speed or projectiles, SSSnaker APK offers elemental abilites like fire, ice, plant and there are also classic abilites like healing, increase in cannons, etc. The elemental abilities can be further upgraded to become even stronger.
Advanced Upgrade System
Similar to other Roguelite games, SSSnaker also has an upgrade system. You can use the gold you gain from runs to upgrade your; attack, recovery, and HP. But unlike other games, SSSnaker has an amplifier for each set of these 3 upgrades, a multiplier to make you stronger exponentially rather than just an additive increase. These require Amplifier stones which you can obtain by opening chapter boxed that get by surviving for more stager every chapter.
Advanced Gear System
SSSnaker has a very well-made gear system. Each gear item has additional stat bonuses. Stacking high rarity gear will multiply the stat bonuses and change your snake's look. You can also use gold to upgrade your gear for more stat bonuses.
Tips To Play SSSnaker APK
To help you improve your gameplay, we have given some tips below.
Use A Variety Of Abilites
New players tend to invest all the abilities they get to choose into one single element like a few fire cannons and further upgrading the fire effect. This is in no way a bad idea, but a better one would be to have a variety of abilities to have more debuffs for enemies. This can create synergies, and massive amounts of damage as a result.
Utilize Collision Spark
In SSSnaker APK, if you surround enemies with your body until your head collides with your body, it creates a collision spark and does massive amounts of damage to the enemies inside. This ability is a high risk high reward ability, as you will have more of a chance to get damaged, but at the same time you will do insane damage.
This is a betrayal to the classic concept of Snake from the old school games, but it would be really difficult to refrain from touching yourself as well as enemies. Instead of damaging yourself you damage the enemies, so it isn't too far off now is it? Learn to use this ability optimally and you will run through chapters like its nothing.
Conclusion
SSSnaker an addiction Roguelite mobile game with very unique game mechanics. This makes the game an immersive experience for all kinds of players. You can always pause your runs, this way you can pick up where you left off last time whenever you get some free time. If you love these kinds of stage based survival games, and you played the classic Snake back in the day. SSSnaker APK is just the game for you!