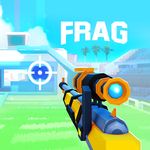 FRAG Pro Shooter APK
3.15.1
FRAG Pro Shooter APK is an action-packed first-person and third-person hybrid shooter game with unique team mechanics, elite graphics and fast gameplay. Try now!
Frag Pro Shooter APK: The Best FPS Games Of All Time
Shooter games have been the most popular genre of games for the longest time, in all the major gaming platforms like PC, Console, and more recently, mobile gaming. This genre has been dominated by triple A titles and Battle Royale games. FRAG Pro Shooter APK has recently been creeping up in the mobile gaming community and for good reason. It is most definitely a slept on title and it should be a lot more popular than it is.
FRAG Pro Shooter APK is a third-person and first-person hybrid shooter game as it allows users to switch their characters' point of view mid game. The reason for its sudden rise is mostly because of a really unique team mechanic it has. The player creates a team or "deck" as referred to in the game, of 6 different characters. Each character is completely unique in every way, different weapons, different abilites, stats, etc. When you start a match, you can choose to control any of the 6 characters you chose. The other will be controlled by bots for the time being. You can order your the attackers in your team to attack the different objectives that you need to destroy in order to win. You can also take control of any character at any time as long as that character is alive and not waiting for respawn.
How To Play FRAG Pro Shooter APK 2023
FRAG Pro Shooter APK Latest version can be downloaded for free from APKCima for free.
Click the FRAG Pro Shooter APK free download link to get the installation file.
While waiting on the file to download, open settings, head to the security section, and enable installation from unknown sources.
Once the installation file successfully downloads, open your file manager, go into the recently downloaded files, locate and run the FRAG Pro Shooter APK installation file.
Complete the installation process and launch FRAG Pro Shooter APK.
Create a team of 6 characters. Each character has different abilities, weapons, and some even have different mechanics.
Choose characters that can work well as a team. Make sure you have enough attacking power to destroy the objectives in enemy territory but have enough defence to defend enemy attackers at the same time.
Now that you have created a team, choose a game mode and press play.
Wait for the match making.
Use the controls on screen to move and use your current character's unique ability.
Hover your crosshair over the enemy to shoot, the game has an auto-shoot feauture turned on by default.
As a new player, you will only have the main game mode unlocked, you have to a total 3 sites in the enemy's side of the map. Or have more points when the timer ends.
Upgrade and unlock new characters as you progress in the game.
Win battles and increase your trophies to move up the leaderboard.
Notable Features Of FRAG Pro Shooter APK
There are some features in FRAG Pro Shooter APK that are the result of this sudden spike in the game's popularity. We will look into a few of these features below.
Unique Team/Deck Mechanics
Though FRAG Pro Shooter APK offers a 2v2 game mode, that is not what the "team" reffers to over here. As mentioned earlier, you have to create a team or deck of 6 characters that you will use in game. The game offers a large catalog of characters each with different abilities. The unique part of this is how the team works in game. 5 of the characters you chose will be controlled by bots, the exception will by controlled by you. You can switch and take control of any character on the field at any time, and you an order your team to attack or defend certain objectives.
Stunning Visuals and Smooth Gameplay
FRAG Pro Shooter APK offers a cartoon and colorful art-style. Chaos and explosions are common in a match of FRAG Pro Shooter APK which add to its appealing visuals. Despite this, the game retains smooth gameplay with no signs of lag or frame drops on even low end devices. This great attention to detail and vivid colourful graphics lead to a more stimulating experience for the player.
Tips To Play FRAG Pro Shooter APK
We have given some tips below to help new players get the hang of FRAG Pro Shooter APK, improve your gameplay in general, and have more fun.
Play 2v2
Once you get to level 2, you will unlock the 2v2 game mode. You can now play with a friend. The game stays the exact same except this time you will have to choose 3 characters instead of 6, the other 3 will be chosen by your teammate. You can also play 2v2 with a random teammate. It is a fun queue and relatively less competitive than the 1v1.
Create Unique Team Synergy
Create a team with characters that work well together. Make sure you have strong and tanky characters for defending your side of the field, while having a good attack plan at the same time. You can look at FRAG Pro Shooter APK content online to find good character decks for specific gamemoes, or you can experiment with new characters yourself. Dont forget to upgrade your characters as well!
Conclusion
Shooter games have become way too competitive. Sometimes you just want a casual game to play that isn't too boring at the same time. FRAG Pro Shooter APK can be both competitive and casual. It offers immersive and fun gameplay for all sorts of players. If you are in the market for a new shooter game, give FRAG Pro Shooter APK a shot, you will not regret it.