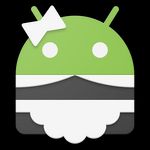 Get the most powerful file management app – SD Maid APK from us. Download the SD Maid APK and access many awesome optimization features for your phone.
SD Maid APK Overview
Android users know that using the device for long enough, a lot of junk files including logs are generated. These excessive files may be small in size but eventually pile up and slow down the device. Therefore, a good cleaning and file management app is essential for every android device. SD Maid APK is the most convenient and effective solution when it comes to such issues. The app does not only make file management a whole lot easier but also helps speed up your android device with the cleaning feature.
SD Maid APK offers an intelligent cleaning feature that specifically targets and removes the junk files that may slow down the device. On the other hand, it keeps all your important files safe and keeps you fully aware of your phone's storage space and what's causing performance issues.
Background – SD Maid APK Android
SD Maid APK for android is a result of the popularity gained by "SD Maid System Cleaning Tool".
However, over time, SD Maid has been gaining more and more positive reviews as more users are giving it a try and seeing the results for themselves.
Feature Highlights of SD Maid APK
Here are some highlights from SD Maid APK to give you a rough idea of its effectiveness:
Complete Device Overview – SD Maid APK has an intelligent device assessment system that allows it to precisely evaluate your android device's storage and locations of all the files. At a single tap, you can overview where your files are stored, how much space is being occupied by which file, and how many log or junk files need clearing. Moreover, this data overview is organized based on category. Therefore, you can easily check which files you need to keep or delete. Rather than exploring all the files and media one-by-one, you get a comprehensive overview.
Find Deleted Apps' Leftovers – This is also known as "corpse". Corpse are files left behind by apps that you have removed from your phone. Some apps tend to generate log and junk files, and leave them behind after you delete the original app. SD Maid APK allows you to pinpoint the location of the corpse files and easily remove them to free up more storage space and boost your device's overall performance. It is important to understand that, even though corpse files may seem harmless but once they stack up, they have a significant impact on your android device's performance and also occupy a lot of storage space.
Full Device Analysis – Every time you add or remove an app on your phone or use particular apps, there are functions being performed in the background that can create temporary files. SD Maid APK comes with a full device analysis feature that lets you get a better view of your android's storage space and decide which files can stay or which need to be deleted.
Device Cleaning – This is a more advanced feature of SD Maid, as it has an intelligent file assessment system. The app scans all the files and apps to let you know if it is safe to remove. However, you will always be prompted with a confirmation message, so you can manually check if the app has got it right. That is to say, there's a safety filter to ensure you get the best from your app.
Complete Application Control – SD Maid APK gives you complete access over the apps you have installed and you can get a quick overview directly from the app. Just as the app assesses storage occupied by media files, it also has a section called "AppControl" that displays how much space is being taken up by installed apps and even those that are pre-installed in all android devices. In addition, you can also check the history of these installed applications and all relevant information including source and versions.
In a nutshell, SD Maid APK is certainly an all-in-one solution for android file management and device performance optimization.
The Complete Solution – SD Maid APK 2023
SD Maid APK 2023 comes with all the right features that help you keep your android device nice and clean. There are numerous tools packed within the app that let you manage all your apps and files.
These files can include log files, temporary files, app crash report, thumbnails generated by media, and so on. You don't even notice but your android device is constantly piling up files every single time you unlock your device to either use it or simply check the time.
This complete solution lets you seamless browse your entire device and manipulate all the files as you please. You can detect corpse files left behind, and remove any file that is unnecessary while optimizing your device's database.
Our SD Maid APK 2023 has the latest bug fixes and additional features that you can get from the play store. Everything from the free version is available. That is to say, you don't have to spend anything at all unless you need advanced tools. The download is completely safe and manually authenticated for your satisfaction.
Final Thoughts – SD Maid APK Download
SD Maid APK download is the all-in-one solution for your android device's file management and performance optimization. The app currently has thousands of users who rated it as the most complete solution in setting up a fully organized and healthy environment for their android devices. Even though, the app is worth the money. However, the SD Maid APK is a 100% free solution and definitely worth the download.