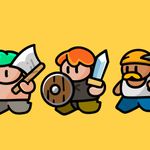 Rumble Heroes APK
1.3.039
Rumble Heroes APK is a fun RPG game you can play with just one hand. Gather heroes and build a village, venture into the wilderness and wipe out dungeons.
Introduction To Rumble Heroes APK
RPG games have been blowing up recently in both the PC and mobile gaming communities. In the mobile gaming community, simple RPG games with arcade-style graphics and sound effects have been getting a lot of attention. Rumble Heroes APK is one of these games.
Rumble Heroes APK is set in a fantasy world. The game starts off with a short backstory prologue that you play. Your character is trying to find the princess with the help of a fairy in a dark place. After you play through the prologue, you will find your character waking up on a seashore next to the village that is now destroyed. You slowly restore the village all the while recruiting new heroes and expanding your village.
The game offers really catchy visuals and sound design. You can always just hop on for a bit whenever you get a little bit of free time. The game does not have much strategy involved other than creating a well-balanced team from your collection of unlocked heroes. Rumber Heroes APK, just like any other RPG, is all about getting stronger and unlocking more heroes, gear, etc. But the difference is that you do not need to grind manually and put countless hours into the game to achieve new levels, all of it can be done with just one hand!
How To Play Rumber Heroes APK
Find the Rumber Heroes APK Download link on our safe and trusted website APKCima.
This link will contain the installation file for Rumber Heroes APK Latest version.
Click the link and ignore any warning about the file that may pop up.
This file is completely safe and will not install malware or anything of the sort into your Android device.
Once the file is downloaded, open the file manager and run this installation file, it can be found easily in the recently downloaded section.
Your device will refuse to express installation at first since this file has been downloaded from a 3rd party source.
You will be given the option to either cancel the installation or open settings.
Click settings and allow installation of apps from this source.
Now run the Rumber Heroes APK Android installation file once more and finally, express and complete installation.
Launch the game once it is installed.
Play through the prologue by using the joystick to move your character.
Follow the Dark Knights that captured the princess and free any heroes you find on the way.
Once the prologue is over, you will find yourself stranded on a seashore next to your old village that has been plundered and destroyed by goblins.
Defeat all the enemies and start restoring your village.
Complete the quests given to you on the top of your screen.
Recruit more heroes and get stronger.
Exciting Features Of Rumble Heroes APK To Lookout For
Rumber Heroes APK offers some really innovative and unique features that add to the fun as an RPG. Here are some of these features with a little bit of detail.
Wide Array Of Heroes
You can recruit new heroes after building the pub in your village. You get several copies of 3 different heroes, you can potentially get one of them with their copies. Spend your gold to roll and get one of the 3 heroes. After getting them, the cards will be rerolled and a new set of 3 heroes each with a different amount of copies will be available.
The heroes come in various different rarities. Each has different stats and abilities. Additionally, you can upgrade these heroes with the copies you get every time you roll, every 5 levels, the heroes get a buff. This can be a buff for the team or just for that certain hero. The unique ability of every hero is unlocked at level 10.
Unique Open World Setting
Usually, mobile RPGs or games where you build and construct a base which in this case is our village, are not set in an open world. In Rumber Heroes APK however, you can venture out into the wilderness and even set up camps anywhere. There are many enemies that you will face out in the world. The further you go, the stronger those enemies get. You can also find dungeons that contain stronger enemies and a boss which rewards you with items and gold upon defeating.
Tips To Play Rumber Heroes APK
Here are some tips to help new players go through the game efficiently and improve their gameplay in general.
Upgrade Heroes Outside Of Your Team
Every hero buffs the characters currently equipped on your team after being upgraded to levels 5, 15, 25, and so on. For example, an agility-based character will give all other agility-based characters a 5% increase in HP at level 5, and at level 15, all other characters will get a 5% increase in Damage. Upgrade the characters of the same category for example agility or intelligence, even if they are not on your current team.
Complete Dungeons
Dungeons can be found in the wilderness, or you can enter one using the dungeon portal so long as you have a map for it. They have a chance to reward you with high-quality gear and red crystals. You can use the red crystals to get the right lane upgrades in the Training Ground.
Conclusion
Small RPGs have been getting a lot of attention lately in the mobile gaming scene. If you are an RPG lover, but never get the time to grind for hours upon hours to get stronger anymore, then give Rumber Heroes APK a shot. The entirety of the game's controls is a single joystick and does not require any manual grinding at all!