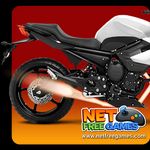 Moto Throttle APK tests the limits of what it means to be a motrocycle fan. If you want to show off your skills, Moto Throttle APK download is what you should do!
Moto Throttle APK: For Bikers, By Bikers
Unlike the more high-end games, Moto Throttle offers a fairly simple concept to bike lovers. The ability to explore how these different bikes in the real world sound based on their engine power. You'll find various motorcycles with basic controls and an uncomplicated UI to accompany it all the same.
What's the endgame here? For you to enjoy the sounds of roaring engines of different bikes. The sound you hear depends on the amount of power you'll be applying to the engine.
You'll be rewarded for your interaction with different bikes, and can then unlock a wide variety of motorcycles to play around with.
What's Moto Throttle All About?
When you start to accelerate the bike on Moto Throttle you'll see intricate details like the fumes coming out to the motorcycle, and as you go higher, you'll notice that the exhaust will begin to shoot flames as well.
The engine's power will determine the type of thunder and you can choose between various displacements such as 50 cc, 600 cc, and 1200 cc. A different displacement means a different torque and power output altogether.
Moto Throttle Features
There are various gameplay elements that would make you, motorcycle enthusiasts, excited. Here's what's to love about the game:
Real Engine Sounds
That's right. Moto Throttle isn't just throwing random loud sounds at you when you accelerate a motorcycle. When you step on that gas, you'll be hearing sounds that these respective motorcycles make in the real world. This itself is one of the best features of the game and makes it realistic.
Unlockables
Throughout your gameplay, you'll be able to earn rewards and use the in-game currency to unlock different motorcycles for yourself. You'll be able to learn more about the power of these engines and how they operate through Moto Throttle.
It's Straightforward
Nothing's too complicated. All you need to do is sit down on a rainy day and pull your mobile out. Start up Moto Throttle and you can select any bike you want. The more you play, the more you're rewarded through its linear progression system. There are no added gimmicks to confuse you regarding the nature of the game.
How to Play Moto Throttle
You can start up the game, and you'll be greeted with its homepage where you can select one of many motorcycles. Many more will be locked however and can be unlocked by progressing your way through the game.
You can avail the information regarding a motorcycle by tapping it, which will show its price, sound as well as any other important information regarding its specifications.
Hit the Play button once you've decided which bike you're going to go with. The game will briefly play the sound of the motorcycle for you.
There are lines on the screen that show you how the sound of your selected bike will change based on your environment and how much power you're putting into it.
Feel free to test out the sound of the motorcycle in different settings. All of it has been recorded from the actual bikes themselves!
How Does the Progression Work in Moto Throttle?
Trust us when we say it's not that complicated at all. As soon as you launch the game, you'll be able to select a bike from a huge list. Pick one and you'll be able to rev it.
The more you rev a bike, the more money you earn. So try to keep on the pedal as optimally as you can. If you try to go overboard with the gas, your engine will ultimately break down.
On the top, you'll see a counter for the number of dollars you'll be earning. Save up enough and you can buy better bikes.
Initially, you'll be starting with cheap bikes that will crash almost instantly which will prevent you from earning any large sums of money. But, once you can afford a better bike, purchase it for yourself and you'll be earning more money than you did on your previous bike!
You could also reinvest the money that you earn into a favorite bike of yours and upgrade it to make it more powerful. This way, you don't have to switch, and you can still continue to progress and earn more coins while staying on your main ride.
Conclusion
Moto Throttle APK Free is a fun little past-time for you. Not only is it small in size, but it's also compact with all the things a motorcycle enthusiast needs. Just rev away at the motorcycle with the touch of your screen, and earn yourself some money to buy your dream motorcycle. Test it out at different configurations and upgrade your garage of bikes along the way.