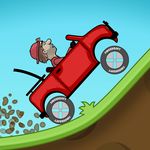 Hill Climb Racing APK
1.60.1
Download Hill Climb Racing APK for to play your racing game up hills up and down. Hill climb racing game unleashes your off-road driving skills to maximum skill set.
In-depth Description of Hill Climb Racing APK
Do you love driving cars? Or you enjoy driving uphill with the Rocky Road terrain. You will find this game interesting.
Hill Climb Racing APK is a fun racing game with a unique story plot and gameplay. However, unlike other racing games, Hill Climb Racing focuses on players' off-road driving skills. I think Hill Climb Racing is similar to the famous endless subway surfers, where you earn coins as you run away from the inspector.
In the Hill Climb Racing game, players will earn many coins as they drive uphill and try to maintain their stance with the road terrain. It is also similar to flappy birds with the gameplay and one-finger control. Hill Climb Racing is an interesting racing game to engage in. This is a fun game to pass out time and balance driving skills.
There are many off-road vehicles provided in the game to select from. You can as well upgrade the cars and enjoy smooth gameplay. Fingersoft, a Finnish company, developed and published the game. In the first year of the launch, Hill Climb Racing APK had over 100 million downloads on google play, and recently, Fingersoft has recorded over 500 million downloads. This depicts how the game is widely accepted worldwide.
Anyone can play this game. Join millions of gamers worldwide to play this game and enjoy the story plot and gameplay while you show off your driving skills.
Story Plot
Hill Climb Racing APK has an interesting story. Players will play as a character named Newton Bills, a talented and skilled racer full of ambitions. One of his ambitions is to become the world's best hill racer. As the other, you will help Newton Bill achieve his goal by selecting an off-road vehicle and riding a challenging race.
This game introduces players to mountaineering. You will ride in rough terrain and try to maintain your stance, overcome the terrain, cross rocky bridges, and many more. The off-road vehicle is sometimes so unstoppable that it keeps bouncing, going back and forth as you're riding in terrain, which makes it difficult to control at times.
Therefore, you must maintain a balance and maneuver your way in balancing the vehicle in the terrain. You need to master car control on the terrain. If not, you will drift, lose your stance, and roll over, making you start the game again.
Hill Climb Racing APK: Gameplay
The off-road vehicle control is easy, and you can control it with just one hand. As the player, your main aim is to skilfully maintain balance in the rocky terrain as you hold the acceleration and brake.
Also, you must use tactics in doing this because you might need to go higher, and if you don't maintain balance, it's a game over. You might want to tread softly and cross or move the terrains carefully. However, this is not good as you will run out of fuel along the way, and you can also miss out on some coins. Running out of fuel means that the game stops, and also, the less money you earn, the longer you want to change your vehicle.
Features of Hill Climb Racing Game
Hill Climb Racing is a unique racing game with interesting features. Below are some of the features of Hill Climb Racing APK:
Awesome Gameplay
Hill Climb Racing has nice gameplay that anyone will find easy to do. Open the game and dive into the story plot and gameplay. You can play offline or online and immerse yourself in the interesting hill-climbing game experience.
Additive physics racing idea
This game features a realistic physics idea with the back-and-forth movement on the mountain and trying to maintain balance. The addictive physics-related idea allows players to display tricks in maintaining a good stance while playing the game. Also, note that each vehicle has different controls, so your physics idea will help you maintain a good posture while controlling any car.
Upgrade or Buy a new vehicle
When you play this game, there are many coins to want as you drive up hills. These coins can be used to upgrade your vehicle or buy a new one. However, it is suggested that you upgrade your vehicle rather than buy a new one that's not upgraded.
Different locations to explore
There are many locations to explore in this game. You will access many maps of different environments like hills, deserts, etc. Each map location has challenges, and your aim is to overcome them.
Many dead types
There are many ways players can die in the game or have to start the game over again. Hill Climb Racing records over 1000 dead types, which include but are not limited to flipping over the car, running out of fuel, hitting a rock, and many more.
Beautiful graphics and sound quality
Hill Climb Racing has beautiful 2D animated content that players find attractive. Also, the soundtrack fits the game well, and you will enjoy every bit of the game.
Conclusion
If you want to experience car racing uniquely, you should download Hill Climb Racing APK, an interesting hill-climbing game as the name reads.