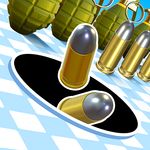 Attack Hole APK is an offline arcade io game where you play as a black hole and have to swallow as many weapons and ammo as you can and then defeat the titan at the end.
Introduction To Attack Hole APK
The hype for triple A PC and console titles is still quite high, but the players are of a newer generation. As everyone has been getting older, no one has the time to grind the new games that come out. Instead, the previous generation of gamers have shown to be more interested in small mobile games to kill a little bit of time. That is where io games come in.
Attack Hole APK is an io game that players can play on the go without having any sort of progress issues if they have to get off quickly. The game is essentially an offline version of the infamous Hole.io. The players takes control of a hole that they can move around, and anything that is smaller than the hole's circumference, will fall into the endless abyss of the hole. In Attack Hole APK game, instead of eating objects and buildings of a city, you have to eat ammo and weapons on a neverending plane.
An empty bar encompasses the hole and as you continue eating the different ammo types and weapons, the bar will fill up and once it fully complete, the Hole you control will get bigger. This will mean more ammo, which in turn fills up the bar quicker, and you get even bigger on a faster rate.
You will have a limited time to gather up all the weapons and ammo you can. Once that timer runs out, you will have to fight a giant titan blob enemy by throwing the weapons and ammo you gathered at the titan. Every level the titan gets stronger, and you in turn get a new weapon or ammo type to eat up beforehand.
How To Play Attack Hole APK game
To play this game, you will have to use the Attack Hole APK download link to get the installation file on your Android device.
You can find this download link on the APKCima website for free.
Clicking this link will prompt a message by your browser warning you that this can be a harmful file.
Since this is from a 3rd party website and not from the Google Play Store or the Galaxy store, your browser cannot recognize or verify the file, hence the warning.
But you do not need to worry, this file is completely safe. Simply press download anyway and continue on with the process.
Open your file manager once the download completes, and go into the recently downloaded files. Locate the Attack Hole APK Latest version installation file and run it to start the installation procedure.
Once it is complete, launch Attack Hole APK.
Use the joystick to move the hole around and eat as many bullets as you can.
You will only have one bullet type unlocked at the moment.
Defeat the titan and you will unlock the shotgun shell as the next bullet type.
Continue defeating the titan by eating more and more weapons and ammo.
Upgrade your timer, default hole size and power level or weapons in the main menu with the gold you earn by defeating the titans.
Exciting Features Of Attack Hole APK
Attack Hole APK has offers some really cool features, these features are the reason why you can enjoy the game without getting bored. Here are some of Attack Hole APK's features.
Large Inventory Of Weapons
Everytime you defeat the titan, he will get stronger and gain more Hit Points. Luckily, Attack Hole APK provides you with a new weapon, ammo, or explosive to eat and use against the titan every level. This is to make up for the sudden increase in his HP. There are tonnes of weapons you can unlock, and each weapon gets better and better every level.
Cosmetics
You can also unlock different skins for your hole. Some of the skins that you unlock later on in the game even give you a buff to your power or increases your timer by a little bit. You unlock skins by playing. Every time your attempt to fight the titan, even if you lose, you unlock a little bit of the new skin. Once the percentage on the skin reaches 100, the skin is moved to your cosmetic shop and can be bought for 1 gem.
Upgrade System
You can spend the gold you earn from attempting to fight the boss to upgrade your hole size, power, and timer. You can get some additional buffs by watching an ad voluntarily, like a magnet, addition to your timer, or just movement speed. C
Tips To Play Attack Hole APK
Here are some tips you can use to get better at Attack Hole APK and defeat the titan with ease each level.
Eat The Latest Weapon
Every level, you unlock a new weapon. The secret to Attack Hole APK, is that the previous weapons no longer do as much damage, or at least they are no longer as effective. So go for the latest weapon you unlocked and you will win with ease.
Spend Gold
If you seem to have no time to gather enough weapons, you have a very low timer. Every level, your upgrades go through a reset. Make sure to spend your gold and buy back the upgrades to have more time and more power.
Conclusion
Attack Hole APK is a really small and simple game but you can play it for quite a while every session, or just play it for a few minutes whenever you get time. This is a game with which you can never get bored no matter how long you have been playing it for. Download Attack Hole APK for free and eat an entire weapon armory!