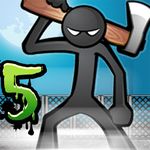 Anger of stick 5 APK
1.1.83
Download Anger of Stick 5 APK to enjoy playing as a hero and enjoy access to Anger of Stick 5 APK awesome, intense fights. This is an interesting role-playing game.
Description of Anger of Stick 5 APK
Anger of Stick 5 is an interesting role-playing game that engages players in the act of a hero. Zombies have been used in different games in the past years, and players who love them have not gotten tired of the game character; there have been numerous games based on this genre. Anger of Stick 5 APK is one of the many games in the zombie genre.
There are many levels players are engaged within this game. Anger of Stick 5 APK is also a stickman game where your sole aim as the player is to help the people in the community from the attack of zombies. You can play this game on your mobile device with its simple layout and controls.
COWON Play developed and published the game with over 100 million downloads on google play, and this game has become so popular that many players worldwide love to play it. Anyone above 10 years old can play this game effectively. Join millions of players to download and enjoy this game.
Anger of Stick 5 APK Story Plot
This game environment is set in a city where a group of foreign people come into the city to kidnap people, hunt them down and perform silly experiments on them. The foreigner issue became a problem in the city that needed attention when people got missing.
The weird experiment on the kidnapped individuals took a toll on them as it turned a larger percentage of them into zombies (bloodthirsty) coming into the city to feed on humans. Now, the city needs a saviour.
You, as the player, will transform into a stickman, a hero who will save the city with your friends. Your aim is to kill the zombies before they attack the city or even turn you into one of them. You can team up with other players to defeat these zombies. The higher the number of kills, the higher your EXP experience.
Also, the more you kill, the more money you earn, which can be used to upgrade equipment, purchase facilities and many more.
Unique Gameplay of Anger of Stick 5 APK Android
Anger of Stick 5 gameplay is straightforward and fun. There are several levels in this game to play, and as you play this game, the levels increase with the number of zombies and foreigners. Their abilities also increase; your mission is to eliminate these zombies and equip your weapons and skills.
While playing this game, you will see the function and joysticks on your phone touchscreen to control the characters. You will get familiar with the controls as you play the game. After each level in this game, if you have successfully eliminated the zombies, you will reduce rewards like money or diamonds. This is super interesting.
Information on Anger of Stick 5 APK
Here is the simple APK file of the original Anger of Stick 5 game. The APK version offers players loads of features to ensure they enjoy the game. The game also includes all the Anger of Stick 5 levels you can unlock as you play. Usually, when you play the game, you must complete a level before you can unlock the next level. That is to say, in this version, all levels are locked for you to explore and enjoy using your own skill. This is super fun, as you can play different levels as you progress.
Furthermore, this game offers coins and gems, which are the rewards you get for killing zombies at the end of each level. The APK version ensures that you enjoy a smooth gaming experience while playing this game. Join players worldwide to download this interesting game. You can get the Anger of Stick 5 APK download on our website as you read further.
Features of Anger of Stick 5 APK
Undoubtedly, Anger of Stick 5 is an interesting game to play with the many features it offers. Below are some of the features you will enjoy while playing the game;
Diverse Game Modes
Anger of Stick 5 APK features game modes to ensure players are not bored while playing the game. Normally, players fight alone; however, you can select single mode or online zombie mode in the APK version. This is super fun.
The online zombie mode is divided into Jump Jump, normal zombies and Defense mode. Each of the modes has its uniqueness in characters and zombies. Download the Anger of Stick 5 APK to engage in these game modes.
Various Equipment
This game has a lot of equipment you can use to fight, and as you increase your in-game level, the more you need to upgrade your equipment. Anger of Stick 5 APK has several weapons players can access with progress.
Graphics and Sound Effect
Although Anger of Stick 5 has a 2D graphic, the contents are relatable and interesting. You can easily relate to all of its characters and content.
Also, the soundtrack suits the storyline well, and you will hear the fighting sounds, giving you a realistic feel.
Conclusion
Join millions of players worldwide to download this game with its simple gameplay and diverse modes to explore.